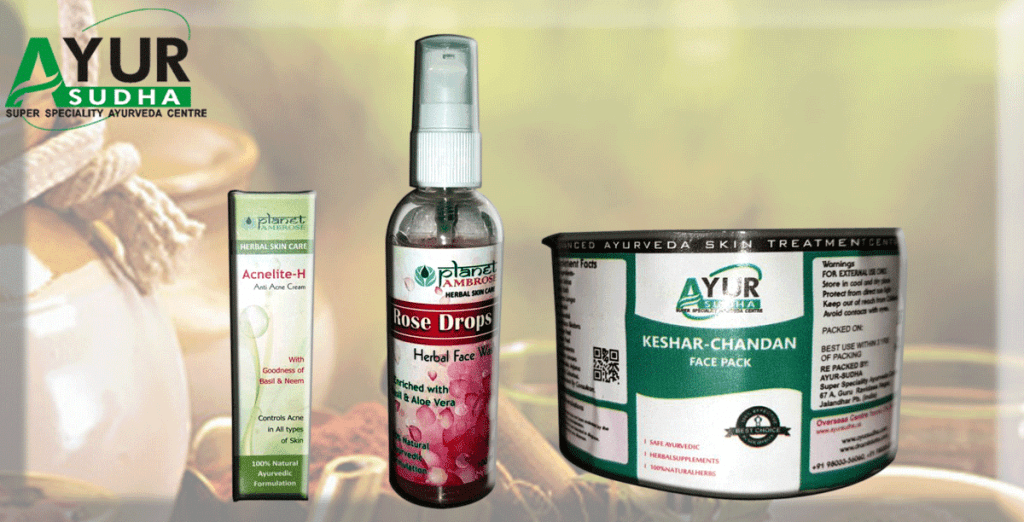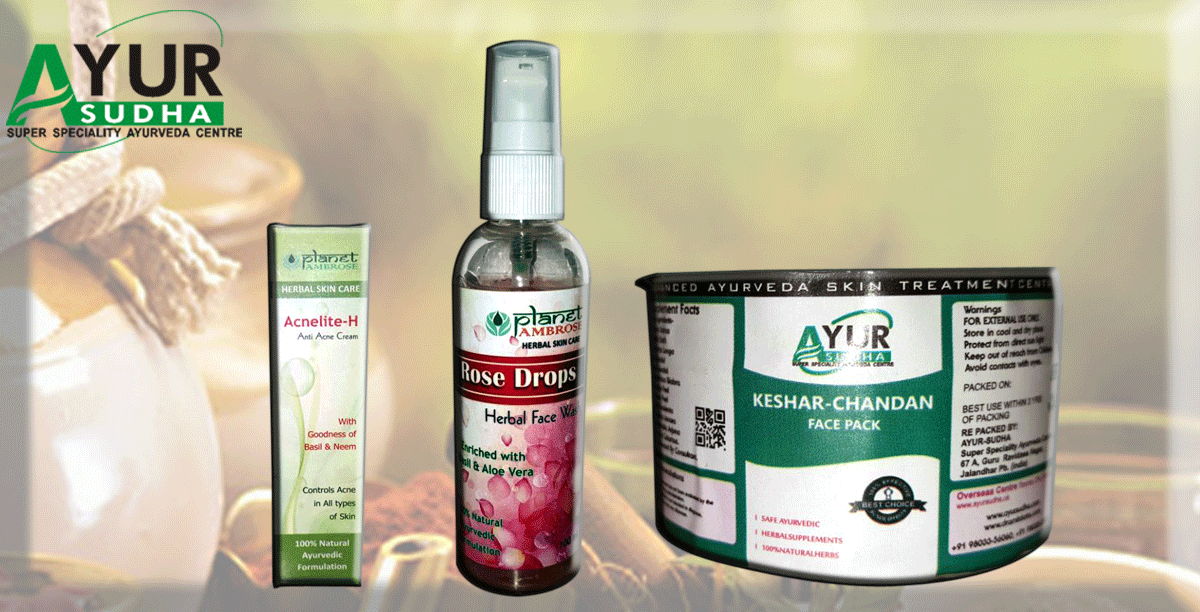 Acne Cure Ayurvedic Medicines
Acne Health Kit:-
| | |
| --- | --- |
| Acnelite-H Cream 25 gm | |
| Ingredients | Quantity |
| Azadirachta indica | 625 mg |
| Aloe vera | 8 gm |
| Ocimum tenuifloum | 625 mg |
| Embelia ribes | 625mg |
| Glycyrrhiza glabra | 625 mg |
| Tinospora cordifolia | 625 mg |
| Symplocos racemosa | 625 mg |
| | |
| Rose Drop Face Wash 100 ML | |
| Ingredients | Quantity |
| Azadirachta indica | 500 mg |
| Ocimum tenuifloum | 500 mg |
| Embelia ribes | 500 g |
| Aloe vera | 5 gm |
| Tinospora cordifolia | 1gm |
| | |
| KESHAR CHANDAN PACK 30 gm | |
| Ingredients | Quantity |
| Crocus Sativus | 250 mg |
| Fuller's Earth | 5.750 gm |
| Curcuma Longa | 5 gm |
| Red Sandal | 2 gm |
| White Sandal | 2 gm |
| Glycyrrhiza Glabra | 2 gm |
| Orange Peel | 2 gm |
| Lemon Peel | 2 gm |
| Lens Esculenta | 2 gm |
| Brassica Juncea | 2 gm |
| Terminalia Arjuna | 2 gm |
| Acorus Calamus | 2 gm |
How to apply cream
Wash your face with Rose Drops face wash before applying the cream. This way you get rid of sweat, grime, makeup etc. this will allow the cream to penetrate into your pores and works properly.
Take little bit of the cream and put into your finger tips.
Apply cream in gentle upward strokes and circular motion by using your fingers tips.
Avoid the area around your eyes and lips .
How to apply face pack
Take half teaspoon ( 2-3-gm) of face pack and same amount of curd/ u can also use rose water or milk . Mix it well to make paste.
Apply it over the face. Avoid the area around eyes and lips.
Keep it for 30 minutes till it dries and then wash it away with lukewarm water / cold water.
You can use Face pack daily at night time or At alternate night according to your skin type. You may also consults Doctor's of Ayur-Sudha to know your skin type.
How to face wash
A herbal formulation for all type of skin that gently removes dirt and impurities leaving your skin soft and supple. Suitable for normal to oily skin.
Spread the face wash.
Message gently and wash the face .
Let it dry.
For best results use it twice a day.
To Buy this acne care kit . WhatsApp @ 98030-39369
You may write us or contact us at –
Mobile: +91-98033-56060, 98030-39369, 0181-2464111
Email : info.ayursudha@gmail.com , ayur.sudha@ymail.com
Read more:- DANGEROUS DISEASES IN THE WORLD,
Get More Information about this product